SONY SIR1000 : Replace Information
For SONY SIR-1000 Users
TEAC WX-7000 data recorder allows you to have a replacement solution for SONY SIR-1000 which were widely used in Test & Measurement fields.
WX-7000 series provide similar usage of SIR-1000 and more reliability and functionality by using state-of-art technology.
Recently, data recorders are being used mainly for back-up purpose, not main DAQ system.
TEAC WX-7000 has following features in order to cover the weakness of AIT tape and 16 bit analog to digital converter.
Solution for AIT media [Reliable and General Recording Media]
RDX and SDHC card can be used as recording media.
RDX which is a disk-based storage system and SDHC card which is the most popular memory media can be used for recording media.
RDX removable cartridge system are mainly used for server back-up system. And it is tough, and cartridges are shockproof and rugged.
And RDX is going to be supplied for long term and it is easy to procure media.
Also SDHC card is one of the most popular memory device, almost computer support to read SDHC card. And it is very easy to get SDHC everywhere.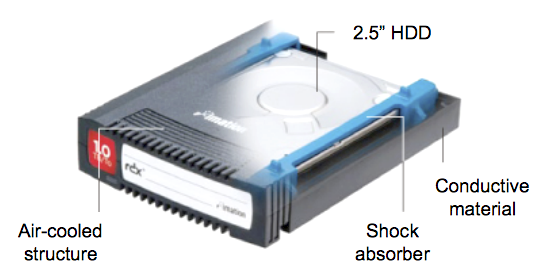 Solution for Recording Time [Extended Recording Time]
With the use of 1TB RDX media, WX-7000 records 72 times longer than Sony SIR-1000. There is no need to change media frequently to record long term test data.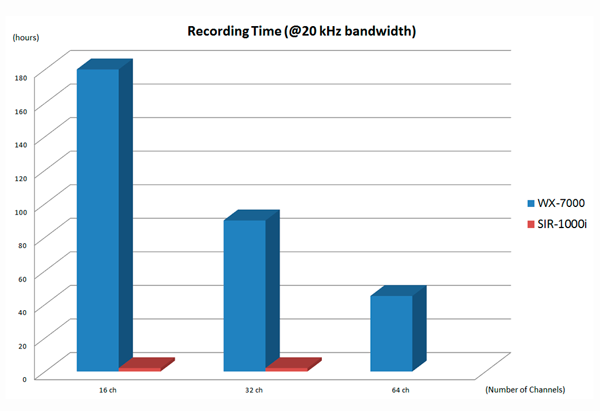 Solution for Large Scale Channels [10kHz Bandwidth 128 channels Recording]
Even 128 channels large scale channel recording, WX-7000 can record 10kHz bandwidth.
Also 20kHz bandwidth is available at 64 channels recording.
Wide Dynamic Range and High Resolution
Wide dynamic range and high resolution provide extended head-room input range to record transient phenomenon.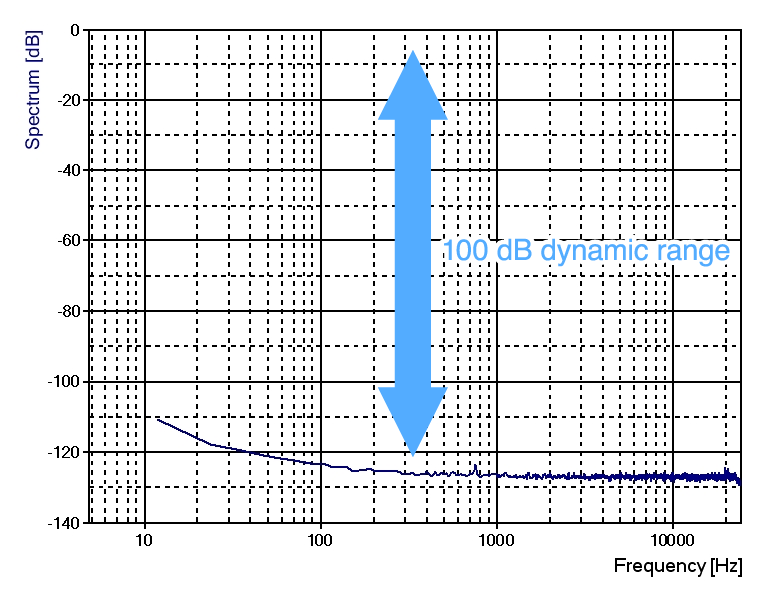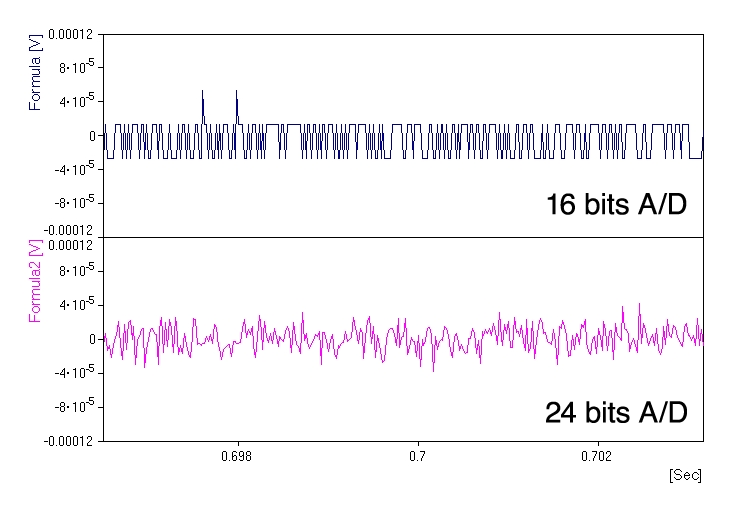 Fail-safe Recording - Avoids data loss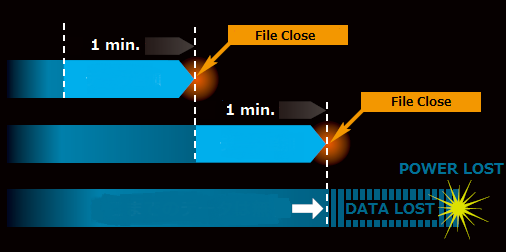 To improve more certainty for data protection, it is possible more surely to save data files with UPS (Uninterruptible Power Supply).
If WX-7000 received the contact signal from UPS which detected the poweroutage,
WX-7000 will carry out file closing automatically, and will stop recording. In more detail
TEDS (IEEE 1451.4) support
TEDS function recognizes sensitivity information fromtransducers electronically, reducing set-up time and eliminating cabling errors.
Easy Access to Recorded Data
Recorded data are stored as files which can be read by computer.
And the file format is TAFFmat which is well supported by several major analysis software
Category
Software
Note
General
DADiSP
FlexPro
DIAdem
FAMOS
Matlab
Script file can be provided from TEAC
NVH
LMS Test.Lab
B&K PULSE
16 bit only
Turbine Test
EDAS SIGnal Workbench